2023 Texas LoopFest - Oct 14th 
King William Park - San Antonio, TX
2023 Performers:
11-11:30am - Art Martinez - San Antonio, TX
11:40am-12:10pm - Philipp Zuercher - Bern, Switzerland
12:20-12:50pm - Polysynthfusion - San Antonio, TX
1-1:30pm - The Winkler - Houston, Texas
1:40-2:10pm - Loop 918 - Lubbock, Texas
2:20-2:50pm - James Sidlo - San Antonio, Texas
3:40-4:10pm - Xy!o - San Antonio, Texas
4:20-5pm - Violoncheloops - Guadalajara, Mexico
5:10-6pm - American Knowmad - Portland, OR

The Texas LoopFest features local, regional, and (occasionally) international artists. It is open to all genres and technologies that using looping techniques. 
What is live looping?  Live looping is artists using hardware/software technologies to instantly record and playback sound.  Born from the experimental efforts of early pioneers with magnetic tape and sound recording devices, "Loopers" have expanded into every music genre and into performance art. What I have assembled at this festival are performers who are passionate and serious about their music and their technology.  They are there for you to enjoy and appreciate.  Support them, buy a recording, make a donation below.  We hope you'll come on board and see how incredible looping is.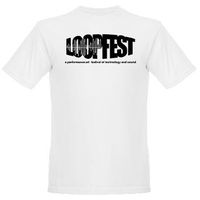 Texas LoopFest Spotify Playlist
    Concert footage of previous festivals
2023 Sponsors: SMARTsa, Chase Bliss Audio, JHS Pedals
Thawind Mills, James Sidlo, Alex Bennett, Alyson Alonzo, Art Martinez, Polysynthfusion, Onivert, Lynnwood King
2022 Sponsors: SMARTsa
Noches de Live Looping Concert, Widespread Noise, James Sidlo, Pedeplei, Liz Ruvalcaba, This Is Where Two Oceans Meet, The Winkler, The Josh Glenn Experiment, Onivert, Loop 918, Noah Peterson, Polysynthfusion.
2021 Sponsors: Henretta Engineering, Morley Pedals, Strymon Engineering, Hotone Audio, Red Panda, Chase Bliss Audio, Electro-Faustus
2021 Texas LoopFest Playlist on Spotify
Katie Martin, The Winkler, Thawind Mills, [stagename], Quasar Cycles, Carlos Ramos, Breaking Light, Rejyna, Violoncheloops, Pedeplei, Jimmy Loops, GrooveTronX, Widespread Noise, Nothing Chief, Markus K, Lizeth Ruvalcaba, Daves Device, James Sidlo, This Is Where Two Oceans Meet, Polysynthfusion, Brian and Chanel, Deferlow    
2019 Sponsors - Option Knob, Henretta Engineering, Morley Pedals, D'Addario, Electro-Faustus
2019 Texas LoopFest Playlist on Spotify
Jame Sidlo, Butch Ross, Momentary Gamelan Ensemble, Lost Son, Deferlow,Breaking Light, Daves Device, The Winkler, Spookstina, Cian, Troll Foot Frass, Arte Sacra Atelier, Xandra Wong       
2016 Sponsors - TC-Helicon, Loopinglive, Morley Pedals, Pigtronix
2015 San Antonio LoopFest Concert Footage:
Momentary Gamelan Ensemble, Breaking Light, Michael Garfield, James Sidlo, The Winkler, Lost Son, Jenuine Cello, The Josh Glenn Experiment, This Is Where Two Oceans Meet, Aldo Caldo        
2015 Sponsor: Smartsa
2015 Austin LoopFest Concert Footage:
Momentary Gamelan Ensemble, James Sidlo, Michael Garfield, Lost Son, The Winkler, Aldo Caldo, Jenuine Cello, The Josh Glenn Experiment, This Is Where Two Oceans Meet
2014 San Antonio LoopFest Concert Footage:
Noah Peterson, Joe Trevino, Josh Glenn, Just Alliance, Mike Why, James Sidlo, FreshFX, The Winkler, Cian     
2014 Sponsors: Smartsa, Blue Moon Beer
 2014 Austin LoopFest Concert Footage:
Just Alliance, SaulPaul, Mike Why, Cian, Michael Garfield, FreshFX, The Winkler
2013 San Antonio LoopFest Concert Footage:
Aotearoa, Joe Trevino, Xylo, Noah Peterson, James Sidlo, SaulPaul, KBeeta, PyroplasticFlow, Captain of the AM, Artificial Earth Machine
Official Satellite of the Y2K International Live Looping Festival